by Program Coordinator, Lillian Chase
Hannah Grimes Center for Entrepreneurship (HGC) provides support and resources for entrepreneurs by entrepreneurs. In 1997, Hannah Grimes Marketplace (HGM) was founded as a place for local artisans to sell their products with little overhead costs. It was this innate desire to help other makers and growers that led founder, Mary Ann Kristiansen, to offer entrepreneurial workshops to those artisans. Hannah Grimes resources grew and in 2004, Hannah Grimes Center for Entrepreneurship was founded as a non-profit organization complementary to Hannah Grimes Marketplace, which still operates as a business today. In addition to Mary Ann's experience running HGM, many HGC staff members own and operate their own small businesses
Administrative Coordinator, Nicole French, learned the craft of floristry while working for a nearby fresh-flower shop. It was there that she fell in love with the art of floral design and crafting bouquets. For Nicole, the only downside to working with fresh flowers was watching them wilt. To avoid this, she decided to look into more sustainable floral options. Nicole eventually settled on the root of a woody plant called "Shola". Bouquets made from the Shola plant are affectionately called "Sola Wood Flowers" in the floral industry, hence the name of Nicole's business, Sola Grove Flowers. Nicole shared that "grove" came from her love of crafting arrangements that mimic the hand-picked garden style of fresh flower bouquets. 
The soft, woody flowers come from the marshes of Southeast Asia, where the Shola plant grows abundantly. The velvety, white core of the plant is carved into thin slices that are assembled into different varieties of flowers. At Sola Grove, you'll find an assortment of blooms hand-painted by Nicole.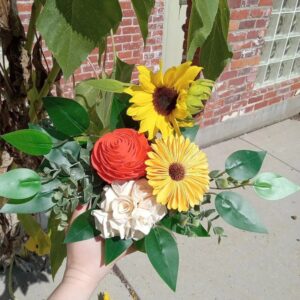 Nicole started her business on Etsy last year, but soon realized that she preferred the relationship-building experience of selling to local customers. When asked her favorite thing about being a business owner, Nicole said, "Seeing my customers' faces when they see the flowers for the first time and are excited to have an arrangement I created in their home for years to come." The connection that she felt with her community and her customers encouraged her to work with her first local retailer, Hannah Grimes Marketplace. 
Selling bouquets in Hannah Grimes Marketplace has allowed Nicole to see firsthand which arrangements people enjoy the most based on how quickly they sell out. It has also been a great exercise in creativity, providing her with the opportunity to come up with new color palettes and floral combinations.
Nicole took full advantage of Hannah Grimes Center resources by joining the fall cohort of Business Lab this month. Business Lab is an eight week business accelerator course that brings instructors and participants together to dive into the many components of each participant's small business. Although Nicole has had success in bringing her arrangements to local customers, there are still skills that she hopes to gain from the program including bookkeeping, marketing, project management, and most importantly honing her vision. Nicole wants to share her passion for floristry and sustainability with her customers, beginning with the idea that we can reduce floral waste. Nicole loves that Sola Grove bouquets not only last forever, but also require no care to prevent wilting, the perfect alternative for those lacking a green thumb.