Need help preparing to pursue financing? Schedule a call with our Program Director.
Schedule a Meeting with Alison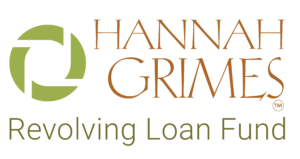 Hannah Grimes Center Revolving Loan Fund was created in partnership with the Regional Economic Development Center (REDC) to help our region thrive, ensuring underserved entrepreneurs have access to financing. Investing in the economic development of our small businesses ensures more opportunities and jobs in our communities. The Revolving Loan Fund provides small business loans between $5,000 and $50,000. The funds can be used for a variety of purposes including working capital, equipment, and inventory. We want to provide small business owners with tools to start or grow their businesses. Along with funding, we provide clients with business advising and resources that can make all the difference in growing a small business.
Unsure where to start with this program? Request an appointment with a business advisor to learn more about the possibilities of alternative financing with the Hannah Grimes Revolving Loan Fund.
Grants
There are limited government funds allocated to support new technologies and selected causes. Government grants can have difficult application processes and requirements. However, you should not let this discourage you if you find a good match for your business.
Crowdfunding
Crowdfunding allows a large number of people to make small contributions to your business. Anyone with a strong social network can participate in this kind of fundraising. People may make pledges to your startup during a campaign or pre-buy the product for later delivery.
Local Crowdfunding Resources:
Local Crowd Monadnock – A community-based crowdfunding program that supports small businesses and initiatives in the Monadnock region with grant funding.
Kiva – Kiva is an online international crowdfunding platform. Entrepreneurs with a strong social media network can help attract lenders to their projects. All loans are zero interest and zero fees up to 36 months.
Competitions
Pitch competitions give you the opportunity to develop your pitching skills and potentially win money. Some pitch competitions include pitch training or practice with professionals. There are different requirements for different competitions, so make sure you do your research to find the one that is right for you.
Local Pitch Competitions:
PitchFork Platform
 – PitchFork Growth (local) and PitchFork Challenge (national) both provide the opportunity for small businesses to hone their pitches and network with potential customers and investors. PitchFork Challenge also includes a final pitch competition where the winner earns $10,000 for their small business.
Bank Loans
Some banks offer business loans or lines of credit to small businesses owners. The money can be allocated for mortgages, construction, equipment, and more depending on the type of loan and the bank. Business owners with good credit history and existing assets are more likely to succeed in obtaining bank loans.
Local banks that distribute small business loans:
Savings Bank of Walpole – Whether you've outgrown your space or you need to invest in new equipment, Savings Bank of Walpole is here to help your business succeed. With local loan decisions and an experienced business banking team, we will help you find the solution that's right for your business.
Mascoma Bank – Mascoma takes the time to get to know you and your business personally, and work with you to create a package of banking services that best helps your business grow.
Other Banks to Consider:
Other Loans
Loans may also come through local or national nonprofit organizations that are directly interested in advancing small businesses. These loans are especially helpful for business owners who already have a connection with the organizations that distribute them.
Relevant Programs:
Regional Economic Development Center – REDC also distributes loans through other funds, including NH New Americans Loan Fund and the EPA supported Brownfields Fund. REDC loans may exceed $50,000.
Small Business Administration 7(a) Loans – The SBA encourages private lenders to provide funding to small businesses by guaranteeing repayment of a substantial portion of the loan amount to the lender if the borrower defaults on the loan. This reduces the risk of the lender and increases opportunities for small businesses to receive financing.
Startup Incubators and Accelerators
While incubators are most generally known for providing free or discounted resources to startups, many provide seed funding as well. This is a great option for small businesses looking for funding and business advice.
Local Incubator/Accelerator Programs:
Hannah Grimes Center Business Incubator Program
Development Agencies
These organizations can provide helpful insight into financing your business and connect you with other resources.
Relevant Development Agencies:
Small Business Administration (SBA)
Small Business Development Centers (SBDC)
This page is for business owners looking for funding and financing options. If you are interested in getting involved as a potential investor: