WELCOME TO BusinessLab!

Business Lab™ (formerly known as Startup Lab) is a fast-paced, interactive program of seven classes held over seven weeks, designed to help you create, refine, implement, and present your business. Business Lab™ for business helps you define the fundamental purpose of your business and the core value it offers to your customers. We cover the essentials of business strategy, finance and profitability, marketing and sales, business planning, and project implementation to ensure that you have the tools you need to be successful!
The Hannah Grimes Center launched BusinessLab in 2004. We have developed a detailed guide on how to run the program and offer it here for FREE to any community interested in using this framework to create their own local business accelerator course.
The program has evolved into several offerings. In addition to the traditional BusinessLab™, Hannah Grimes also offers Food BusinessLab™ and Farm BusinessLab™. Hannah Grimes is in the process of creating guides for these sector-specific courses as well.
BusinessLab™ for business is a collaborative program. Our entrepreneurs work with instructors and other participants to discuss their businesses and dive deeply into the components of business. The instructor's role is to help facilitate the discussion and offer insight, where helpful.
We also invite a number of community-based entrepreneurs to share their expertise and experience with either starting a business or supporting growing businesses. Guest speakers include business founders, service providers, working professionals, and all-around wise sages.
Business Lab™ offers an ideal setting for discovery, hands-on application of practical business tools, and the ability to clearly communicate the value of an entrepreneur's product or service, and the benefits their business offers.
We hope that the guide will inspire and support you in running a BusinessLab™ course in YOUR community! Hannah Grimes staff can answer quick questions for you, but if you'd like more in-depth guidance on running the program, we also offer consulting by the hour. Please reach out to programs@hannahgrimes.com if you have a quick question or need a deeper dive.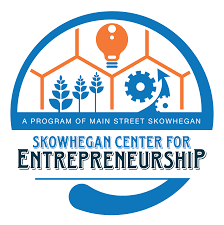 "We cannot express our gratitude enough for Hannah Grimes allowing us to utilize the Business Lab curriculum. The guide has been a tremendous resource that has allowed us to offer a valuable program to help support our local business owners/entrepreneurs. I already have a waitlist of aspiring and current entrepreneurs who would like to participate in the next cohort!" -Patric Moore, Skowhegan Center for Entrepreneurship